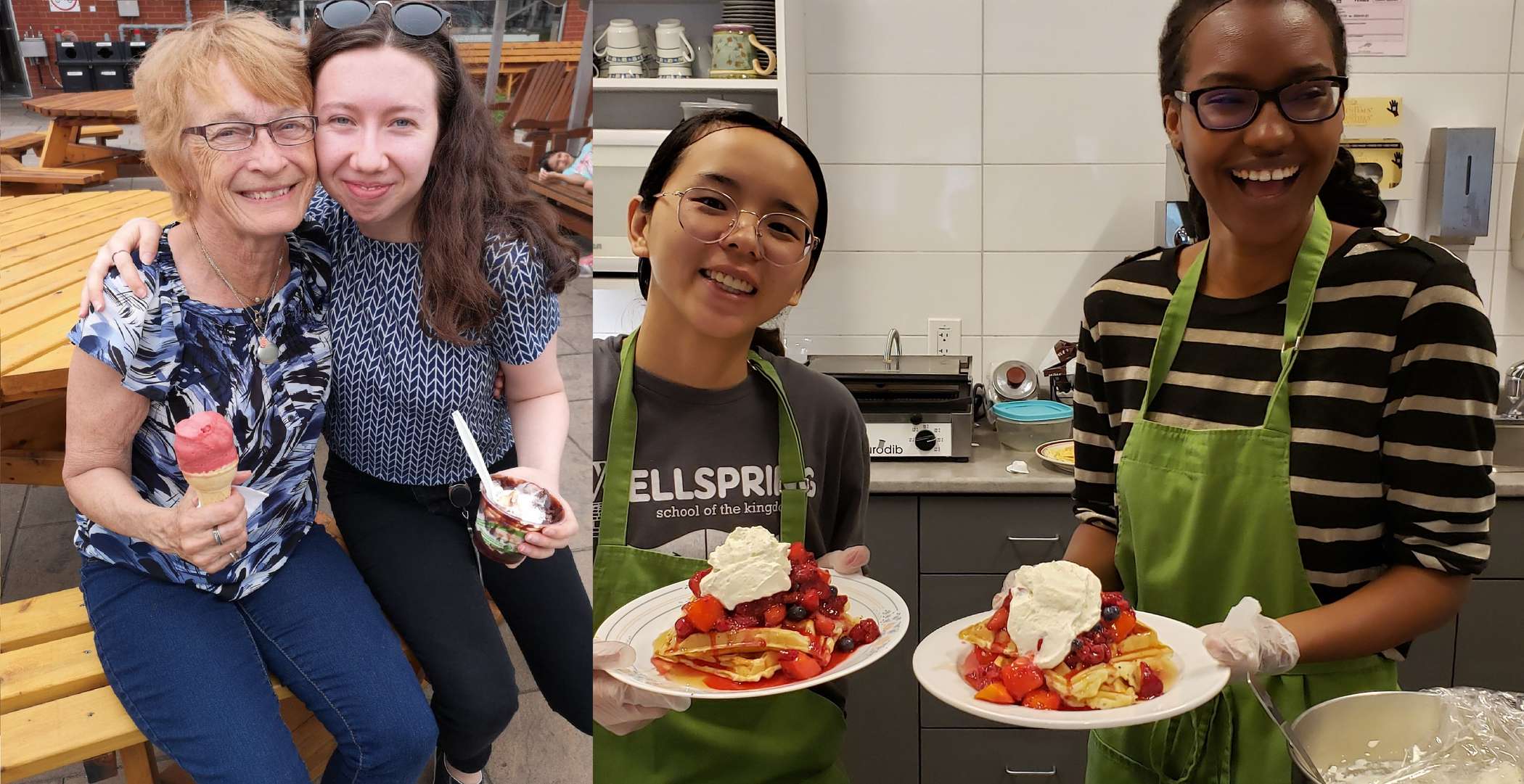 20

Aug
Grace Village was pleased to welcome two Summer Students this year, Khalilah & Cleo. We asked them to share a little about their roles, and what they enjoyed about being part of our team!

(Photos: On the left, Khalilah enjoys an outing to Coaticook Ice Cream with a resident. On the right, Cleo (right) works with a volunteer serving Waffles in the Bistro.)

Khalilah Anderson joined us for her second summer as the Recreation & Leisure Intern. Khalilah grew up in Lennoxville and is beginning her final year of the "Sciences, Lettres, et Arts" program at the Cegep de Sherbrooke. After Cegep, Khalilah hopes to attend university in Psychology or another field where her work will help others. This summer, Khalilah planned and implemented therapeutic activities designed to increase quality of life for the residents.
Here is what Khalilah had to say about her time at Grace Village:
"Where to begin? This summer at Grace Village as an activities animator was fantastic! Every day was a pleasure to come to work; as a matter of fact, most of the time it didn't really feel like work. The staff at Grace Village is so nice, everybody is very friendly and welcoming. Everyone is giving the best of themselves, and it shows!
As for the residents, they are so nice and sweet, there is no other way to describe them. They filled my days with lots of funny moments, laughter, and memories I will never forget.
I found that the activities were very interesting and diverse which allowed everyone to find something they love. I loved seeing the residents really having fun, being interested in an activity and experiencing new things. Furthermore, I absolutely loved spending quality time with the residents who can sometimes feel lonely. I am so happy and honored that I could brighten their day and be able to help them. I am also really glad I could spend time with some French residents who don't always come out to the activities.
Working at Grace Village really helped me learn important life skills such as patience, compassion, etc. This experience made me realize that I love working with people and helping them!"
Grace Village was also glad to welcome Cleo Rutihinda this summer. Cleo was hired to be the Bistro Coordinator for the season. She is from North Hatley, and is currently studying at Bishop's University in Biology. Here is what she had to say about her time working at Grace Village:
"Hey! My name is Cleo. As the Bistro Coordinator, I was responsible for tasks which included figuring out what to serve at the Bistro (menu development, ordering ingredients and supplies for the menu), maintaining records of stock, sales and wastage, working with volunteers, helping to prepare and serve the meals at the Bistro and more. I learned how to cost out recipes and ingredients, make meals like club sandwiches, use tools like taking payments with the Square machine, run a Waffle Maker and a Panini Press, and more. Not a lot of people know about the Bistro at Grace Village, so I really want to get the word out there! We post the menu weekly on our Facebook page:

www.facebook.com/gracevillageca



I was also given the opportunity to try other jobs like work as the receptionist, serve during the Ribbon-Cutting Ceremony for Faith Hall, and serve residents meals as a Kitchen Helper.
In the beginning, I was kind of worried about how I would manage all the tasks and responsibilities that came with the job. Even when I was stuck, there was always someone to help me. Everyone was so friendly, welcoming and understanding, it was great!
Even though this job wasn't exactly in the field I want to work in, I really improved my time and project management skills, which can be transferred into all sorts of career paths. I don't have a clear-cut idea of what I want to do professionally, but I know that I want to present myself as a hard-working employee who is motivated to keep busy and perform to my best ability.
I would like to thank everyone who has supported and welcomed me at Grace Village. This has been an amazing opportunity. I have built memories I will forever cherish with me. I am very grateful to have been given this summer job. It was a blast!"
Thanks to Cleo & Khalilah for their work this summer, and good luck as you head back to class! You are always welcome back!