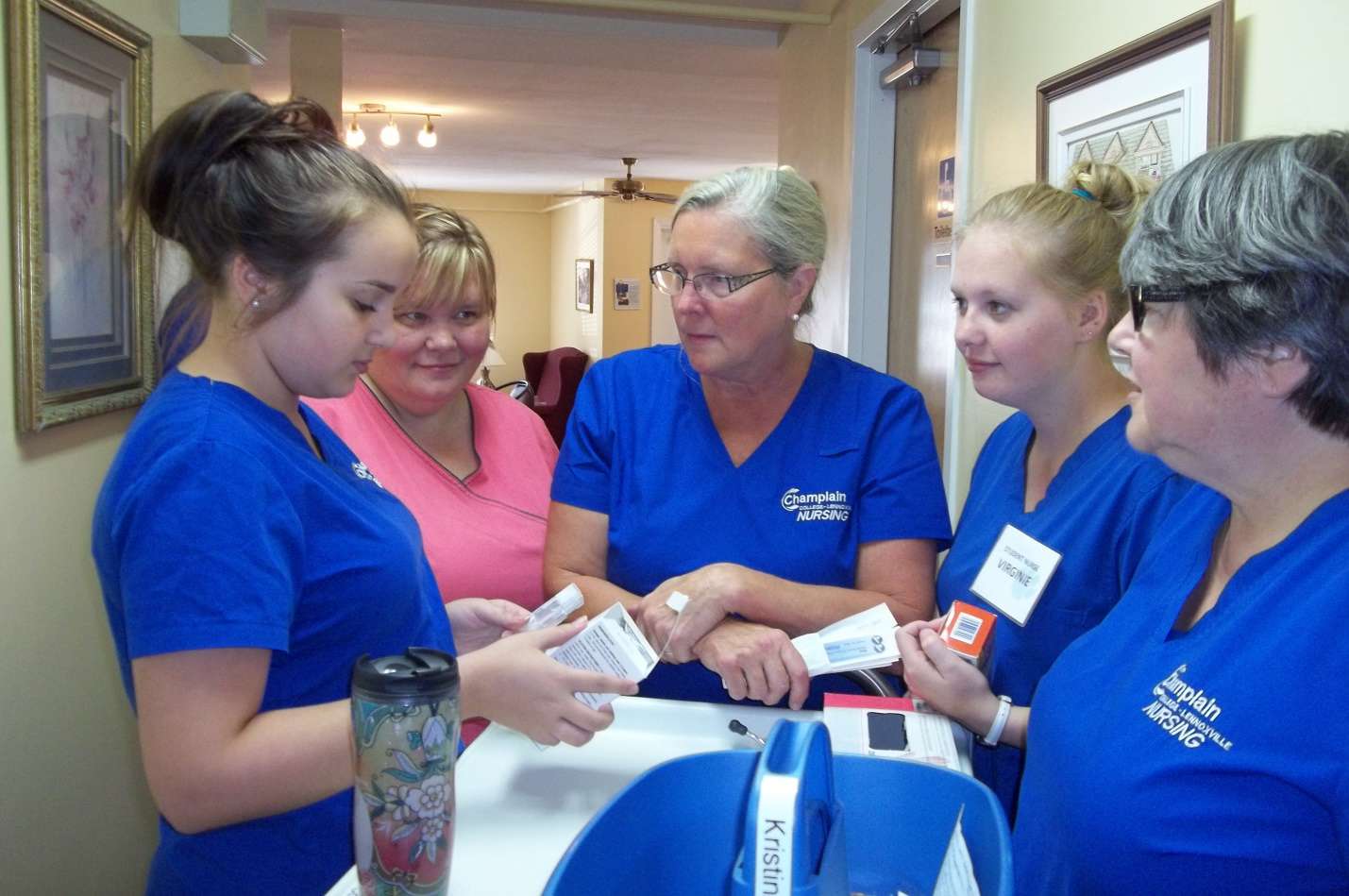 1

Oct
Over the course of a year, Grace Village welcomes over 100 different students in a wide range of programs. Young people have been back in class for about a month now, so this week on the Village Blog we wanted to share about how this opportunity impacts us as an organization, and how this in turn benefits the students.
Mondays, Thursdays and Fridays from September to December are busy days here at Grace Village! Over 30 nursing students from Champlain College, our local CEGEP, can be seen all over the building in their bright blue scrubs. They are learning more about the field of geriatrics, and practicing their skills in a real-world setting.


Grace Village enjoys the honour of being a major teaching environment for the Lennoxville / Sherbrooke area. Some of the programs we welcome students from include:


Nursing & Special Care Counselling Students from Champlain College;

Homecare & Caregiving Students from both the Lennoxville Vocational Training Center & the 24 Juin Center;

Psychology Students from Bishop's University & the Université de Sherbrooke;

Students from local secondary schools Alexander Galt High School & Bishop's College School;

Summer Internships with students from various fields, including the sciences, commerce, and more.

Students can make a significant contribution during their placement here. We have seen many benefits to us as an organization, and to the care our residents receive:
Research: many students are conducting research projects here, like Special Care Counselling students conducting one-on-one interviews with residents, and Bishop's Psychology students researching Well-Being in long-term care;
Support: as students learn the basics of healthcare, it allows staff to perform the more difficult tasks;
Knowledge: Staff are refreshed in their health care knowledge, learning from students and their on-site instructors. This allows us to be sure we are providing the most up-to-date care for our residents;
Encouragement: Students bring with them an enthusiasm and fresh perspectives;
Connection: Our seniors benefit from the interaction with the younger generation and the opportunity to share experiences.
Entertainment: Next door to Grace Village is a small elementary school, La Source, them and several other local schools visit two to three times a year performing their Christmas Concerts, Dictées, and End-of-Year Shows. Residents love seeing them!
In turn, Grace Village is proud to offer students benefits of their own, including gaining skills specific to their field of study, transferable skills, knowledge of senior care, and helping them make decisions for their career choices. Grace Village acknowledges the value that hands-on experience can have for a student who will be heading off into the field to help others. We are so pleased to be able to provide learning opportunities for young people in our community.


Family & friends of our residents can have confidence that their loved ones are receiving the best care possible. Grace Village is committed to improving the quality of life and care of our residents, and we continue to develop programs and services to meet the needs of an aging population.