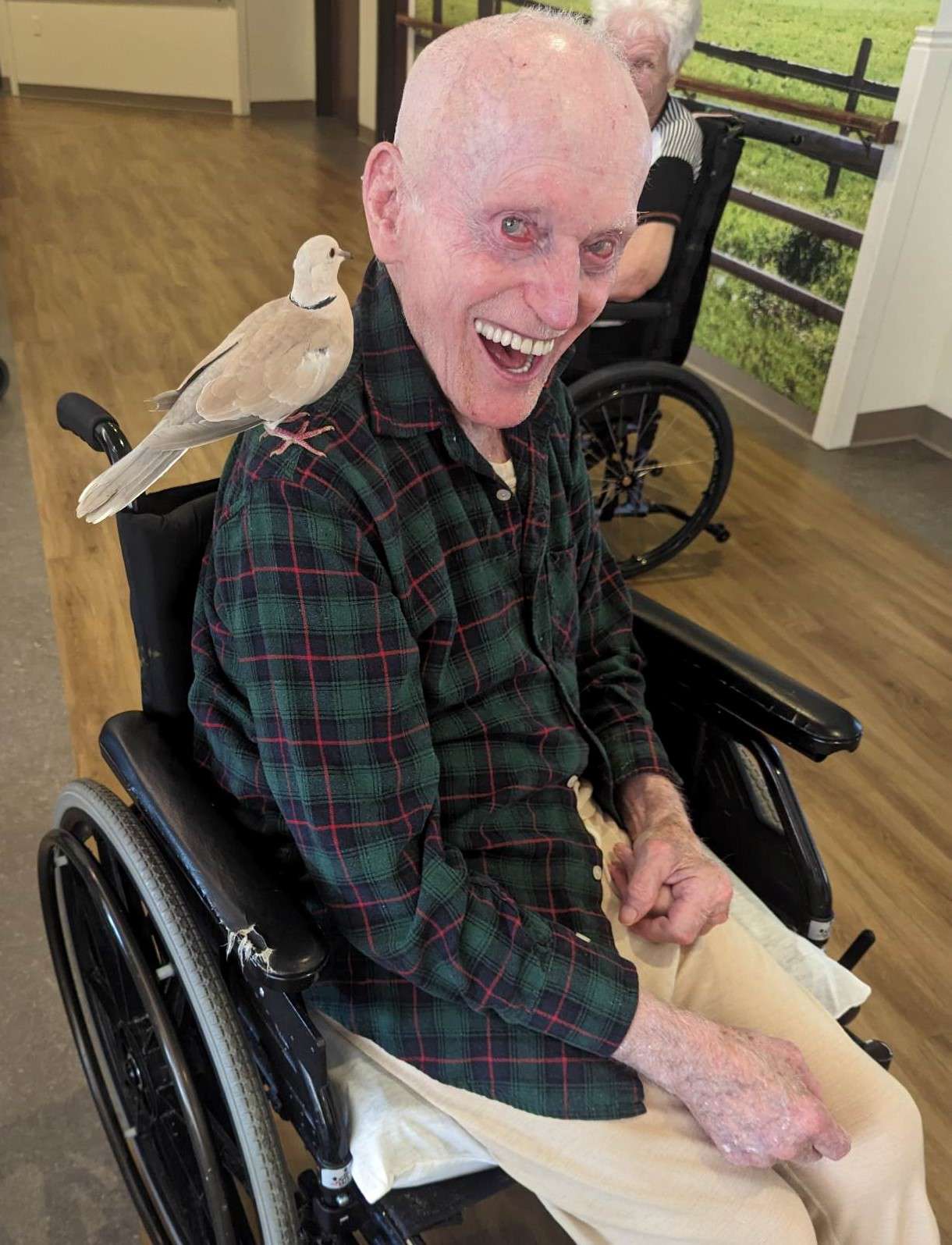 13

Jun
Throughout the years, people have been very aware of the usefulness of human-animal connections, a mutual bond that surely has not been lost on the people growing up in the rural farming communities of the Eastern Townships like many of our residents at Grace Village. However, it is only in the past 25 years that people have begun studying the beneficial effects that this connection can have on the physical, psychological and psychosocial lives of people. Studies show that interacting with animal can lessen loneliness and isolation, reduce aggressive behaviours, and promote the increase of positive health behaviours like exercise, and healthy eating. Read more about Human-Animal Interactions and Animal-Assisted Therapy this week on the Village Blog.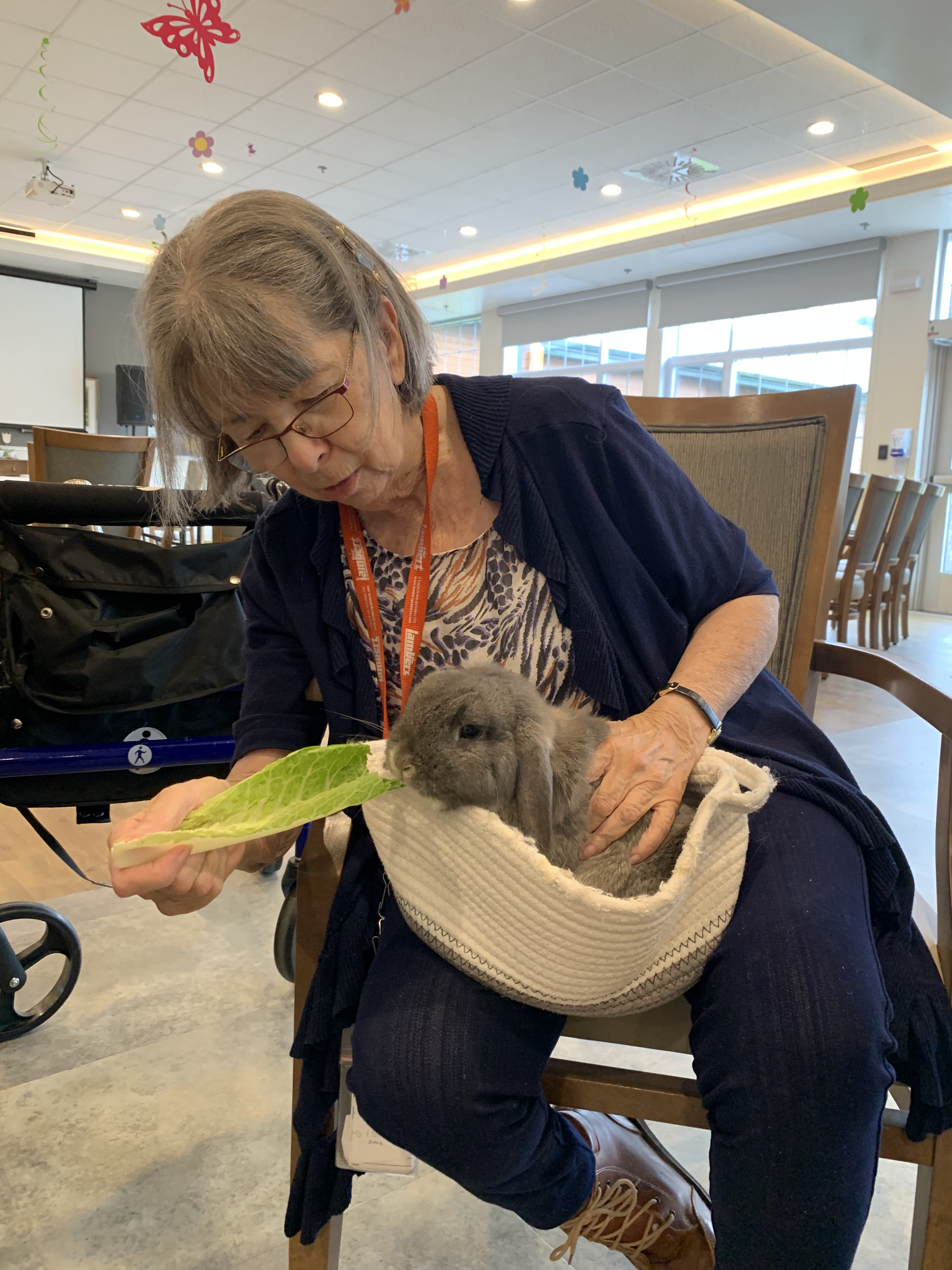 Physiological effects
- Lower blood pressure and heart rate
- Decrease in Cortisol (Stress hormone which has been linked to memory loss!)
- Possible decrease in pain levels and use of pain medication
- Increased levels of oxytocin (feel-good hormone)
- Increased oxygen saturation
-
Did you know that older adults with frequent interactions with animals are less likely to experience deterioration of ADL's? (What are ADL's? Read THIS blog post)
Did you know that studies suggest the positive hormonal changes from 5 minutes of some animal-interaction can be equal to the effects of 20 minutes of rest?
Psychological and Emotional Effects
- Decreased depression
- Significant positive changes in mood
- Decreased loneliness
- Increased social interaction / decreased isolation
- Reduction in agitated behaviours
- Decrease in anxiety
- Increased alertness
- Increased engagement in environment
- Feeling of positive structure and meaning in lives
Did you know that something as simple as having an aquarium near an eating area can increase nutritional intake and nutrition levels in people with Alzheimer's Disease?
Types of Human-Animal Interactions
Friendly Visitors and Companion Animals
Friendly Pet Visits at Grace Village: Grace Village loves to welcome visitors and their pets! This includes family and friends, as well as volunteers in our "Friendly Companion Program". All visitors with pets are asked to follow our "Pet Visitation Policy" which includes a small assessment by a pet-policy ambassador to best ensure the health and safety of all involved.
Companion Animals at Grace Village: Grace Village is currently considering the various ways that we can incorporate animals on-site, including the potential for an aviary, aquariums and more! As you walk through the corridors, you may even hear the purring of one of our animatronic cats which are very effective with many residents both as a tool in our memory care environment, and as a reminiscing tool with other residents. It wouldn't be entirely uncommon to see one sitting in the lap of a Recreation Team member getting a good grooming. (To see more about robotic cats, watch this video: https://www.youtube.com/watch?v=iiUp8SSVbiw )
Assistance/Service Animals
A service animal is a working animal that has received special training to work one-on-one with a person requiring tailored assistance that can be provided by the animal (Most well-known example being a Guide Dog for the seeing impaired). Other common types of service dogs include Hearing Dogs, diabetes alert dogs, seizure response dogs, Autism support dogs and mobility assistance dogs.
Did you know that while dogs are the most common service animals (and in many countries, the only animals legally considered service animals), some other animals that we are beginning to see the potential in including miniature horses and potbelly pigs!
Zoo-Animation
Zoo-Animation consists of specialized programming using animals and their interactions with residents. Often done in a group setting, Zoo-Animation provides a stimulating environment where people can interact with various animals. These Animal-Assisted Activities focus on recreation, motivation, education, and other life-improvement focuses.
Zoo-Animation at Grace Village: We in the Township's are lucky to have access to Toutous Poilus (https://www.toutouspoilus.com), a team of animals and animators from Sherbrooke who visit local seniors' residences, schools, and more. Their specially trained team includes dogs, cats, chickens, rabbits, and a miniature horse! We have also partnered with Clark & Sons in the past to host a special Easter activity with baby chicks and ducks!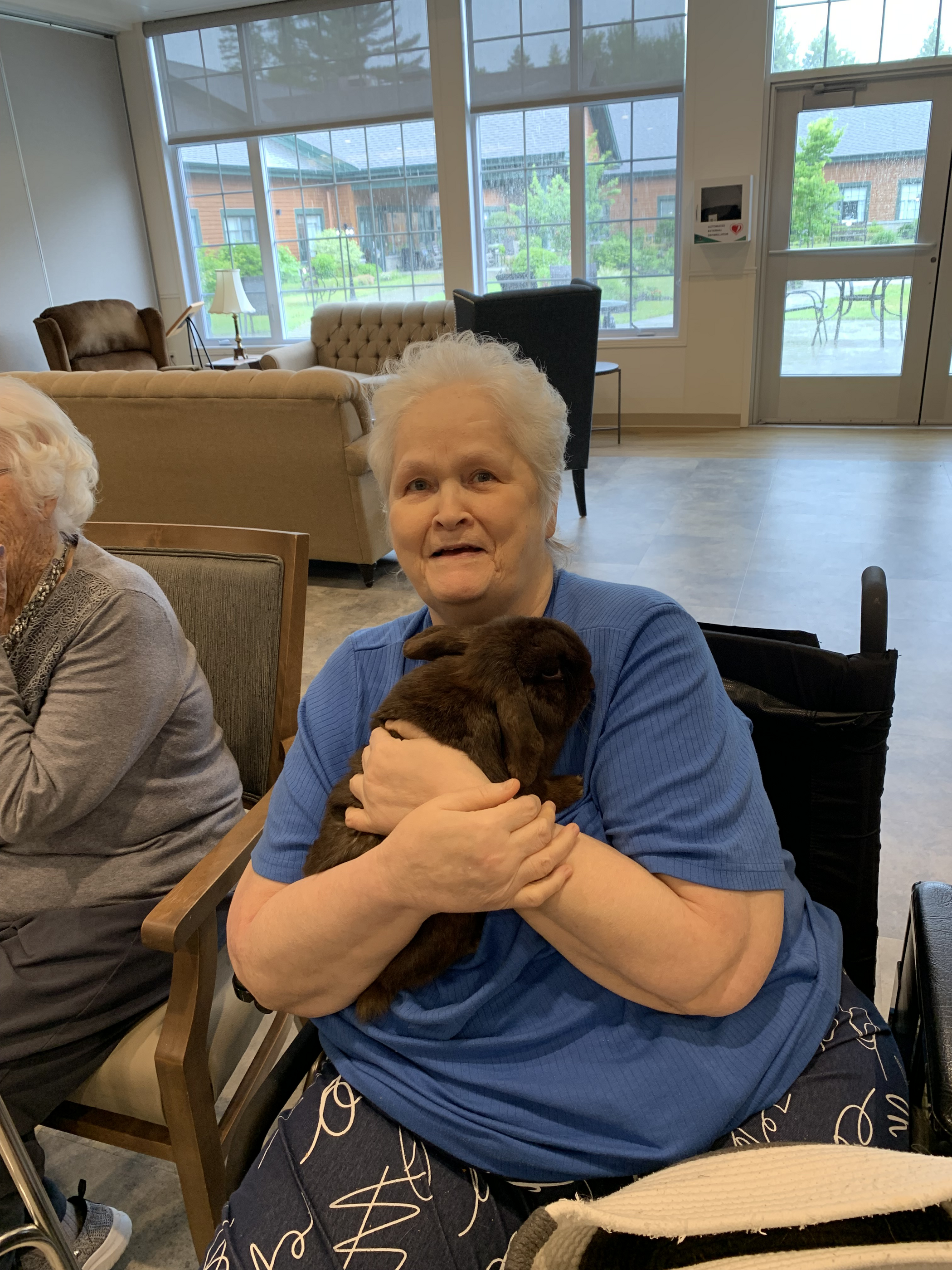 Animal-Assisted Therapy
Zootherapie Quebec describes Animal-Assisted therapy as
"…a type of therapeutic intervention with recipients, either individually or in groups, whereby a carefully selected and trained companion animal is introduced by a qualified intervenor to the recipient in view of eliciting reactions from him/her and of maintaining or improving his/her cognitive, physical, psychological or social potential." Animal-Assisted Therapy differs from Zoo-Animation in that it is more individual goal-oriented, and often part of a treatment or care plan to achieve specific milestones.
Animal-Assisted Therapy at Grace Village: In 2017, Grace Village introduced our special rabbit companion "Darryl" who specialised in working in our Memory Care Wing with a member of our Recreation Team trained in Animal-Assisted Therapy. We were saddened by his passing but look forward to new Animal partnerships like his in the future!
Whether you grew up knowing how to milk a cow, or you begged your parents for a pet fish, most people can recognize the benefit of having animals in their lives. Did you know that, according to the American Veterinary Association, 63% of pet owners consider their animals to be family members? In the past 25 years we have learnt so much about the evidence-based value of human-animal interactions, and we are sure that throughout the next 25 years will continue to emphasise the importance of animals in therapeutic milieus. Whether this blog encourages you to learn more about Animal-Assisted Interventions, or just makes you want to snuggle a bit tighter to your animal family members, we hope you smile when you recognize the important part these animals play in our lives, and the lives of the seniors at Grace Village!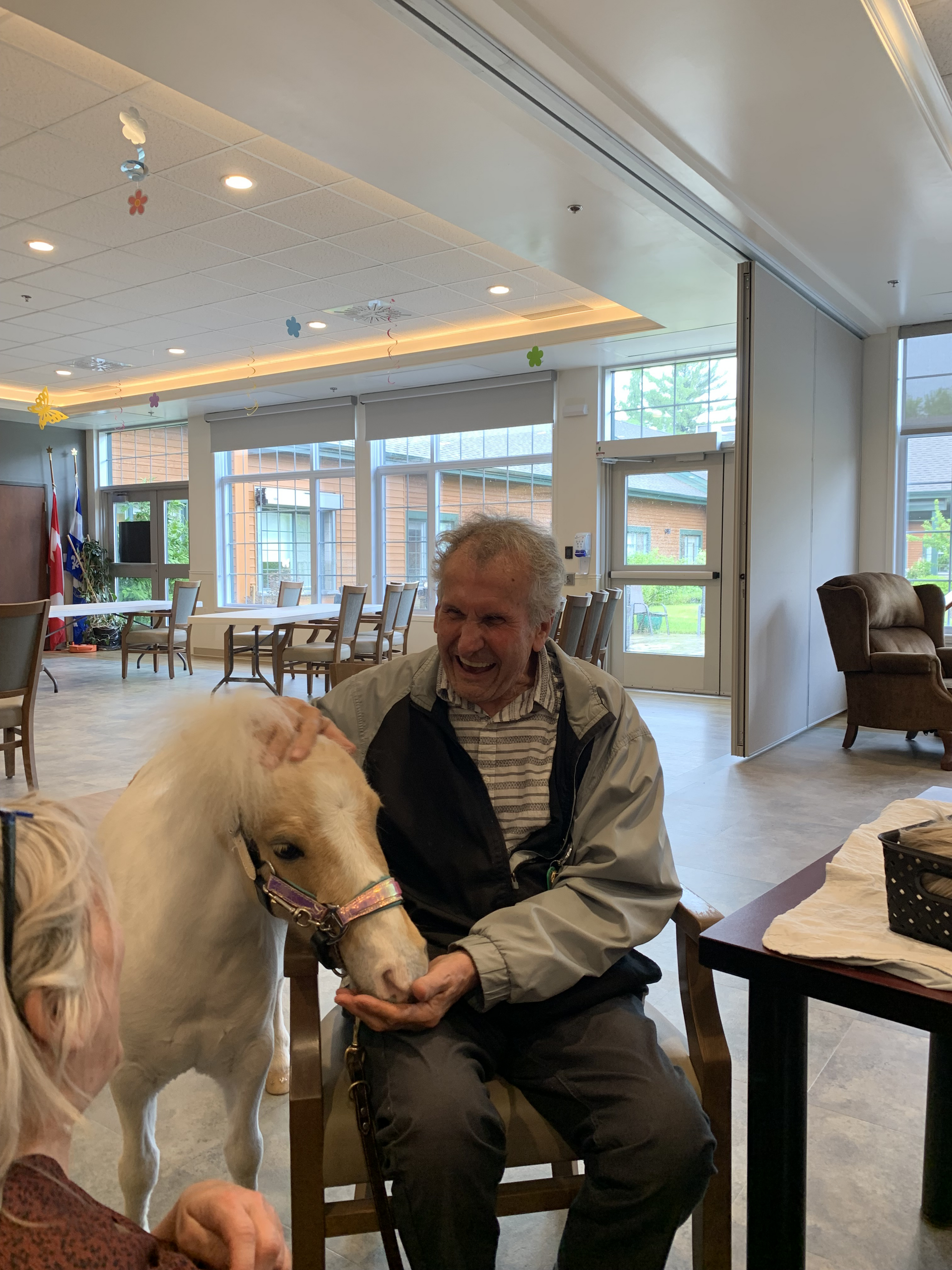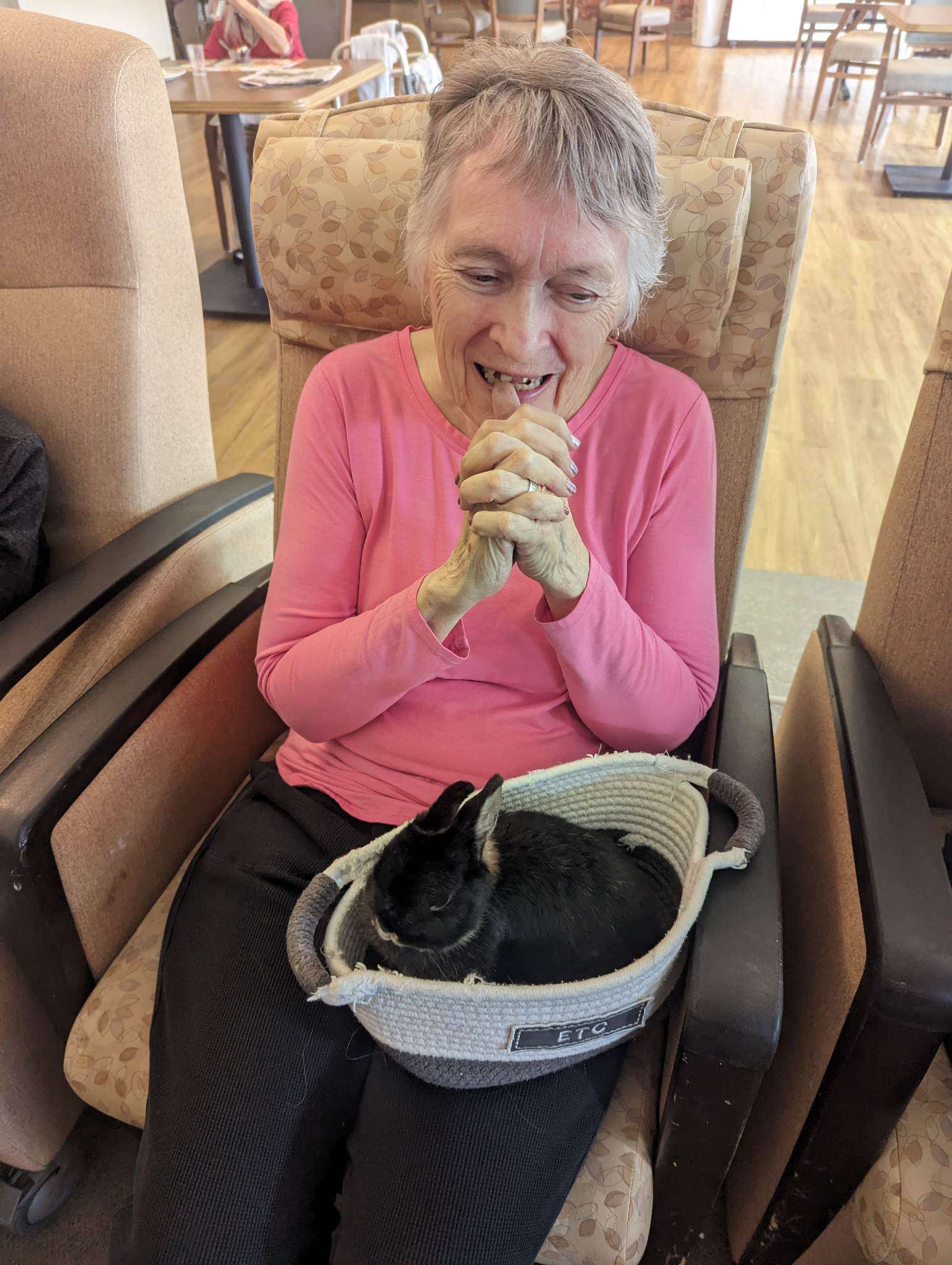 ("Did you know" portions taken from information in the Handbook on Animal-Assisted Therapy – Fine)